Content of the article
Come rain or shine, and even a tornado warning, the dog show continues.
Content of the article
The Gray Bruce Kennel and Obedience Club returned to Harrison Park this week after a two-year hiatus due to the COVID-19 pandemic, with hundreds of dogs competing during the three-day event.
And even Wednesday's weather, which included torrential downpours, thunder and even warnings about the possibility of tornadoes in the area, couldn't stop the event, although it brought on soggy dogs and their handlers. .
"I don't know if we've been under a tornado warning before, so that was new. We've also had flooding," club president Amanda Lougheed said Thursday. "But dog show people are flexible. and we're pretty passionate about it, so we're going through thick and thin, and apparently high water."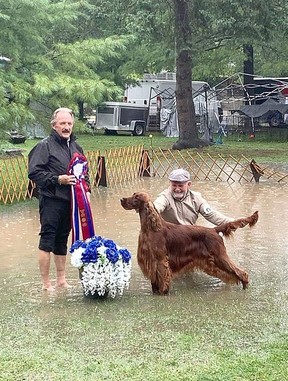 But the ground had dried up and the sun returned on Thursday, the third and final day of the event, and Lougheed said they were really happy with how the show went.
"The dog show is a community in itself and it's really an extended family and you get to see people you haven't seen in three years," Lougheed said. "It's so nice to see everyone again."
The Owen Sound show is part of a circuit of shows across the province that dogs and their handlers attend each year. After the Owen Sound show, many attendees traveled to Kilbride, near Caledonia, for a show there.
But Lougheed said many attendees commented on how the Owen Sound show was one of their favorites, especially because of the location in Harrison Park and its friendly, laid-back feel.
Content of the article
"Owen Sound is a great community and there are lots of things people can do," Lougheed said. "There's the location, the camping, the nature and it's just a beautiful sight. We have a barbecue and we try to make it a real family affair.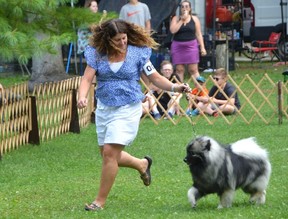 The Owen Sound event is a conformation show that actually has six shows over the three-day event. Around 180 dogs were entered at each show and around 100 breeds were represented during the week.
Lougheed said the event attracts purebred dogs, breeders, owners, handlers and judges from across Ontario as well as the United States.
Dogs are judged in a number of different groups and a variety of prizes have been awarded at each show, including the coveted best in show.
Lougheed said the event was also an opportunity for community members to get out and see a variety of dogs and even get a feel for which type might be right for their family.
"They meet breeders and exhibitors and people who own them and live with them every day," Lougheed said. "It's a really good opportunity for people to hang out with their families, see a whole bunch of dogs and interact with them."
Many of the dogs in the show are at the top of their breeds, including a Pekinese who is #4 in Canada, as well as an Irish Setter who is #5 and a Shetland Sheepdog who is #7 in the country.
"You bring home the best dog every day, win or lose," Lougheed said. "But we have a few that are featured across the country and that's why they're the top-ranked dogs."
Content of the article
Sheltie ranked No. 7 Diamond capped off a very successful event on Thursday, winning Best of Show on the morning show.
Bred by Kim Aston and Peter Culumovic of the Ottawa area and owned by an owner in Japan, the three-year-old Diamond was shown by handler Sydney Robinson in Owen Sound this week.
Robinson, who is from Ottawa, said she may not have owned Diamond, but she's lived with her since she was a puppy, so the win was really special.
"She's done really well. Even in the heat, she never gives up and gives 110 per cent," Robinson said. "She loves the attention. When people clap and everything, she loves it.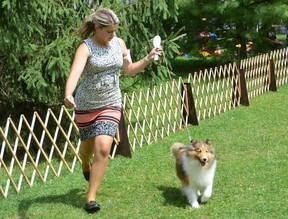 Robinson said that conformationally, Diamond is special because of her beautiful face, pretty eyes and nice sideways gait that circles the ring.
"She's very efficient and moves easily," Robinson said. "She's a sheepdog, which means she's supposed to work all day, and she seems to be doing her job well."
Robinson said they have yet to try breeding with Diamond, but plan to do so in the future. Diamond does have a crafty dog ​​title, though, she noted.
Robinson said she was born into handling dogs as her parents bred and showed Wheaten terriers, she fell in love with the sport and carried on. During the shows in Owen Sound, she showed six different dogs.
"It's for the love of dogs," Robinson said of why she loves being a dog handler. "I love this show with the number of people who come just to see the dogs and want to know more about them.
Content of the article
"Some of these races they wouldn't see all the time. I have a Manchester toy, which is a rarer breed and I've had a lot of people come to me asking about him and I love being able to share that information.
Lougheed said the show was busy every year but worth it for the club, which has around 30 members and is always on the lookout for new ones.
"Any dog ​​owner we would love to welcome into our club," she said. "It's really about owning a responsible dog. It doesn't matter the breed, it doesn't matter if it's a mixed breed, it just allows us to get people out and bond with their dogs, do fun things and let them know about the activities that they can do with their dogs."